Reflexology is a non-intrusive complementary health therapy, based on the theory that different points on the feet, correspond with different areas of the body. Reflexologists work holistically with clients and work alongside all other healthcare to promote better health for their clients.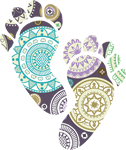 Anyone of any age, from new-born babies to those receiving end of life care can receive and benefit from Reflexology. However, very occasionally there might be a time when a treatment may not be suitable. If you would like to discuss this further, please call me.
Reflexologists will not claim to cure, diagnose or prescribe and should never be used in place of seeking professional medical advice.
As reflexology is a very individual treatment the treatment will be tailored to you as a whole person, taking into account both the physical and non- physical factors which might be affecting your wellbeing.
Reflexology will often promote the body to restore its natural balance. Most clients will find stress and tension reduced if not to have disappeared. Sleeping habits may change for the better and your mood and sense of wellbeing will improve along with increased energy levels.
Reflexology may be one of the ways to mitigate the stresses of modern life.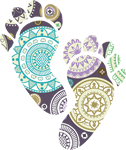 If you have any questions, please feel free to give me a call or send me an email.